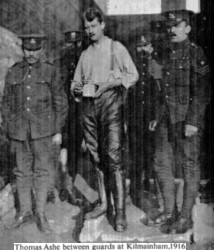 With all my recent news on Thomas Ashe, i forgot to remind listeners that Ashe was a founding member of The Black Raven Pipe Band, who are a world renowned pipe band based in Rush/Lusk area of Fingal. Ashe is reputed to have obtained the first set of pipes and taught himself to play.
All this information and much more is available on the Pipe Band website www.blackravenpipaband.net
My thanks to Damien Russell and all at the band for their good wishes and praise of my song The Ballad Of Thomas Ashe [track 9], from my album My Ireland.
My Ireland, the album by Martin Byrne
Martin Byrne on Youtube
Related Posts: