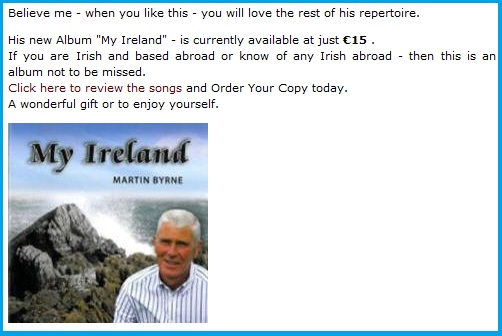 The original review can be found on EuropeanIrish.com.
FULL NEWS ARTICLE:

Martin Byrne is a brilliant singer songwriter with an extra-ordinary and touching story of how a double tragedy inspired Martin to pen a moving ballad called 'Flowers On The Water'.

For any Dubliners- you must listen to "The Changing Face of Dublin", feel the passion that you have for your home town – through the song, a song that could be applied to any large city in the world in these changing times.

Martin hails from The Blackhills overlooking the scenic fishing town of Skerries, North County Dublin. As a boy he has fond memories of watching the fishing boats come and go from the harbour and "this inspired me to write my very first song called 'All The Little Boats '.

During the 1980's when the stark reality of emigration had set in, his thoughts turned to the many thousand emigrants who had left our shores. This inspired Martin to write the song 'Ireland My Ireland' as a wish and a prayer that many of our sons and daughters would one day make it back home.

Believe me – when you like this – you will love the rest of his repertoire.

His new Album "My Ireland" – is currently available at just €15 .
If you are Irish and based abroad or know of any Irish abroad – then this is an album not to be missed.
Click here to review the songs and Order Your Copy today.
A wonderful gift or to enjoy yourself.

Songs of Emigration cover ranges from missing Ireland, missing a loved one back home,a song of drink and hope – looking for the far away hills expecting to return laiden with treasure, and a song of being in the 'coffin ships – slammed up for 61 days in this hell' – 'Home Sweet Home', 'Carry My Love', 'Haul Away' and 'Sixty One Days'.

With Acoustic Guitar by Mike Hanrahan (of Stockton's Wing ), music by David Yeats, Harry Long, Charlie Arkins, Christy Sheridan, Paul Martin, John Gilbride and music and direction from Gerry Simpson, the sound on this album is truly magic.

Martin says – "I found myself with an overwhelming desire to write enough songs to record my first album, and here it is. Like most songwriters I spent countless hours with only my acoustic guitar for company searching my inner most thoughts for the words to express my feelings in song. A dream is only a dream until it is realised and now my dream has come true.

My wife Patricia, who has been a great inspiration to me, has a great knowledge of both local and national history. Patricia urged me to write about one of Irelands unsung heroes the legendary Thomas Ashe. I researched the history books and penned

'The Ballad Of Thomas Ashe'. Boy am I glad I listened her!

In January of 2007 a double tragedy occurred off the south east coast of Ireland. Two fishing trawlers the Pere Charles and the Honeydew 11 sank within 24 hours of each other with the loss of 7 lives. The responsibility, the feelings and the shattered dreams of those involved weighed heavily on my shoulders as I undertook to write the song 'Flowers On The Water' in memory of all those lost at sea.

Finally everybody looks for the defining moments and the things that have influenced them in their quest for success. For me this is a very simple question,– undoubtedly the evening that I walked into Sidetrax recording studio in Drogheda and met Gerry Simpson. My musical world changed completely. From the humble beginning of making a demo to producing and recording me and my songs, Gerry has become an inspiration, a guide, a mentor, and above all a true friend."

My Ireland by Martin Byrne has 11 incredibly melodic and movingly worded Irish ballad and folk songs that have all been written Martin Byrne himself, which is quite astounding.
His new Album "My Ireland" -is currently available at a reduced €15 for a limited period only.
Click here to review the songs and Order Your Copy today.
Review courtesy of EuropeanIrish.com
Related Posts: